WORKSPACE BUTTONS
The workspace buttons can be added to the bottom of the platform. The buttons allow traders to create and save different trading screens and to cycle through them. This trader, for example, has three trading lay-outs including one with Birger Schäfermeier's trading strategies.




FILLS VISIBLE IN CHART
Traders can opt to visualize their filled orders in the chart. The little green line indicates the price at which the position was bought. To the right of the screen is the entry price, 1,1197. The +1 means the trader bought 1 lot. His sell stop order, which limits his risk, is visible in red.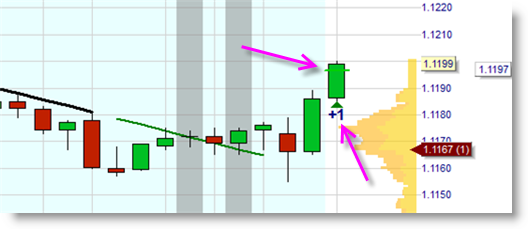 NEWS, ARTICLES, IDEAS
Nearly every week, directly in the platform, we publish a quality article on trading, trading ideas, death/golden crosses, break-outs and other trading related information. Clients can also insert RSS feeds of their choice in the platform.


INTEGRATED CHAT
WH SelfInvest is known for its legendary service. Clients can chat directly with our support desk via the trading platform. It is also possible to post questions in the forum allowing the support desk or other clients to answer.




DAYTRADING STATISTICS
Analyze your trades ... increase your profits. Daytrading statistics generates an analytical report of your trades including a graphic representation of the results and detailed statistics. All daytrading data can be exported to Excel in one click.