ABOUT OUR CFD AND FOREX
Clients have access to a selection of CFD on market indices and commodities such as oil, gold, silver and agricultural products. All CFD have very low spreads. Order execution is fast and fair. All clients trade at the same, low CFD spreads.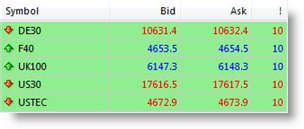 Over 65 forex pairs are available at small spreads. Forex trading on MT4 is commission-based. Order execution is fair and fast without requoting or rejecting. All clients enjoy the same, non-variable spreads on all forex pairs.


ABOUT WH SELFINVEST
Licensed broker since 1998 with offices in 6 E.U. countries. WH SelfInvest uses local banks as depository banks for client assets. Client assets are separated from our company's assets and are accounted on a per client basis. Our legendary support is available from 8h00 to 22h00. We welcome both novice and advanced active investors.
WH SelfInvest has received numerous awards. These are some of the most recent awards: