Free trading newsletter
Learn how to trade
Make-it-easier tools
When choosing their first broker novice traders tend to focus on low commissions and mass marketing visibility. Major parameters such as charting, platform, support, education materials and even regulatory safety are often ignored. It are, however, precisely these parameters which form the basis of trading succes.
If you are considering to start trading please take a moment to consider these 6 reasons why many novice traders select WH SelfInvest.
The NanoTrader trading platform contains numerous tools which make things easier for traders. One example are TacticOrders. Traders who determine their entry points on a combination of technical analysis indicators will find TacticOrders extremely useful.
Once you activate several indicators it becomes difficult to visually evaluate their combined opinion. A TacticOrder is a special order type fully managed by NanoTrader. It monitors your selection of indicators and creates orders if the combined opinion of your indicators meets the conditions you set. You can confirm the order or let it execute automatically. Programming is not required.
Say you have five indicators. You can, for example, request the NanoTrader to give you a buy signal when four of the five indicators turn bullish. This video shows another practical example: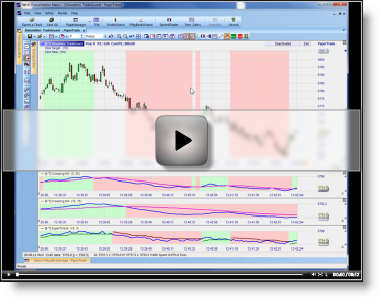 "For me and some of the participants who sat around me, the best presentation on automated trading and indicators we ever attended." - WX
Recording & Playback
The most effective way for a trader to train a new trading technique or a new market is by way of having live data of this market in conjunction with a PaperTrade account. But ... it can get extremely time consuming to really get confident with a market – simply because events unfold over multiple weeks.
The OneClick Recording and Playback feature of the NanoTrader platform address the needs of traders who want to accelerate their learning instead of following the market week after week. It allows to easily convert price data into a Recording that can be used as a Playback thereby giving the trader the live experience of receiving the data.

At a glance OneClick Recording and Playback provides the following functionalities:

a) Convert a zoom in a Chart into a Recording with the click of a button

b) Convert the last trading session of a tradable security into a Recording. This allows to train on the data without having seen the chart before.

c) Use Live Recording for capturing the trades and the orderbook.

d) The Playback allows you to receive the data in real-time or in any acceleration you choose. It also allows you to Pause or move forward stepwise for a most detailed examination of the market.
"Thank you and your colleagues for the fair and competent manner in which you deal with clients." - MK
Education materials
Education is another of the keys to success. Clients have free access to high quality seminars and webinars. All these events are recorded and are accessible via a video library. The trading library is stocked with free trading e-books and reports. In a recent broker comparison WH SelfInvest obtained the highest client satisfaction in the category "Education materials/programs".
We maintain excellent relationships with many of the famous traders and educators. Clients usually get discounts on the educational services provided by these famous traders. They frequently co-host our seminars and webinars.

These popular traders use the NanoTrader platform for their trading and to illustrate their books, we usually can offer new clients a free book. Feel free to ask a book when you open your account.
More than 30% of clients who placed an order this year have been a WHS client for over five years or more. It shows clients are satisfied. It also shows many have learned to trade and thrive using our education materials, tools and platform.
"The content of the various topics was very interesting. All presentations were delivered in a competent way and I have learned many things." - EH
Trading strategies
The toolbox principle allows you to easily create a trading strategy. Without programming you can combine indicators, signals, filters, blockers, stop order types, trendlines ... into the trading strategy you have mind.
If you do not have a trading strategy in mind you can discover the more than 50+ free trading strategies and signals integrated in the NanoTrader platform. Each strategy is clearly explained. The strategies are in open architecture meaning you can modify them if you want to.

More trading tools and strategies can be found in our popular trading store. Most of these tools and strategies have been created by well-known traders.
"The trading platform is simply awesome. One can instinctively use it. The product range is also excellent. The support team is competent, friendly and quick. I could go on for hours adding positive factors, but I will leave it at these. You are really top rate! Please continue in this way." - CB
Legendary service
As a novice trader you will have many questions. You need a broker who can answer these questions. Our legendary support desk is available via chat, e-mail, forum and telephone. In a recent broker survey WH SelfInvest scored a first or second place in no less than 11 out of 16 customer satisfaction criteria.

Broker industry surveys show that WH SelfInvest consistently has the highest client advocacy rate. Our current client advocacy rate is 2/3 i.e. 2/3 of clients actively recommend WH SelfInvest to other traders.
"A small, parallel infidelity with the competition had confirmed to me that I am, with WHS, in the best of hands. Neither IG Markets, nor Captrader can match your service level, speed and friendliness - I have also declared this in writing on websites such as Brokerdeal." - AF
Order execution & Commissions
A trader wants orders to be executed quickly and correctly. We agree. Hence we select our technology and infrastructure in such a way that orders are executed at high-speed. WH SelfInvest is a broker, not a market maker.

As a trader you will also appreciate our low commissions and small spreads. Once you start trading and you notice that your particular strategy results in many orders you are free to contact us to request a volume discount.
"Whenever assistance is needed, expect a quick and friendly response." - KM