Free trading newsletter
Switching broker?
Industry surveys have shown that (a) WH SelfInvest attracts the most clients switching away from their broker and (b) WH SelfInvest has the lowest number of clients switching to other brokers.
If you are considering switching brokers please take a moment to consider these 6 reasons why traders switch to WH SelfInvest. Frequent traders feel free to contact us for an offer.
Exceptional trading platform
Our in-house trading platform NanoTrader is available in two versions: NanoTrader Free (CFD and forex) and NanoTrader Full (CFD, forex, futures and stocks). The platform has won numerous awards and is known for its charting tools, high-speed order execution and (semi-)automated trading without programming.
The trading platform is also exceptional in that it can accomodate all trading styles (scalping, daytrading ...), all trading techniques and all skill levels. Every trader, from the absolute beginner to the professional, is guaranteed to find what he is looking for. In addition WH SelfInvest quickly integrates clients suggestions as well as frequently adding new functionalities.
We also offer MT4. It is fair to say that we believe NanoTrader is the better platform. The platforms are compared here. Platforms for web, tablets and mobile phones are available.
"The NanoTrader is now my fourth trading platform and it is by far the best." - HB
Trading strategies & Signals
The toolbox principle allows you to easily implement your trading strategy. Without programming you can combine 179 indicators, 10 trading signals, filters, blockers, 10 stop order types and charting into a trading strategy. The free papertrade account and the backtest function allow you to test the strategy before implementing it. In addition to your own strategies you can use the more than 50+ free trading strategies and signals integrated in the NanoTrader.
Clients can also find trading tools and strategies in our popular trading store. Many of the tools and strategies in the store are provided by famous traders.

"The Sentimentor applications in the trading platform are simply ingenious." - MK

Clients recommend WHS
Broker industry surveys show that WH SelfInvest consistently has the highest client advocacy rate. Our current client advocacy rate is 64% i.e. 2/3 of clients recommend WH SelfInvest to other active investors.

Clients particularly like our legendary service, charting tools, reputation, trading platform and educational efforts. As a matter of fact 92% of all heavy traders choose WH SelfInvest due to its client service.
"Many thanks for your efforts and quick response to my request. I am impressed how fast and uncomplicated your service is. I take my hat off to you, I am more than satisfied with your service and with WH SelfInvest." - TK
Solid reputation & Safety
WH SelfInvest was founded in 1998. The latest broker industry survey, based on the opinion of more than 15.000 traders, indicates that WH SelfInvest has the highest client satisfaction across multiple areas: charting, trading platform features, trading ideas and strategies, educational materials, range of trading tools, range of research tools and customer service.
Client money is segregated and kept in major banks. The company has full branch offices in Belgium, France, Luxemburg and Germany. These offices are supervised by the relevant regulatory bodies. The company has registered representative offices in Switzerland and the Netherlands.
"Respect for the impressive performance of the WH SelfInvest team." - JR
Education materials & Programs
WH SelfInvest positions itself as the best broker for traders with a serious approach to trading, who want to learn, who want to continually improve themselves and who want the best trading platform. Clients can participate in free seminars, webinars and the forum. Free trading platform coaching is available. The trading library contains numerous free e-books and reports.

More than 30% of clients who placed an order this year have been a WHS client for over five years or more. It shows clients are satisfied. It also shows many have learned to trade and thrive using our tools and services.
"Thank you very much again for the workshop this weekend. I have benefited a lot from it, both from a content perspective and the sideline conversations with other traders." - CK
Broad product range
Via the NanoTrader platform clients can trade CFD, forex, futures and stocks (Europe, America, Asia ...). Within each of these categories we offer an extremely wide choice of instruments. In each case the technology and instrument combination has been optimized to meet the requirement of active investors.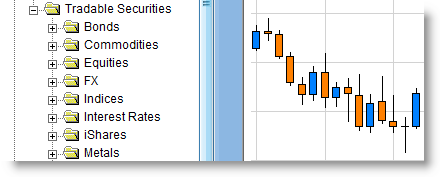 "From the product range and conditions, over the reliability in the order execution and administration to the communication, I feel very well served." - KW