Screeners
All screeners are available in the NanoTrader Full trading platform.
Each screener comes in three versions: "Indices, forex and gold", "European stocks" and "U.S. stocks".
All screeners are free.
You can make screeners by using the indicators, chart patterns, signals and strategies available in the platform.
The concepts used in the screeners are also available as a trading signal or a trading strategy.
Practical application
What is the difference between a screener and a scanner?
A screener screens when you launch it and stops when it has checked all instruments in your list. A scanner, also called a livetable or quoteboard, monitors your instruments continuously. Scanning is performed on charts in small time frames (< 30') where quick notification is required in order to open a position. Scanning uses the computer intensively and is therefore performed on a limited list of instruments.
Where do I find the screeners in the NanoTrader?
The screeners can be found in the Screeners folder in the WorkspaceBar.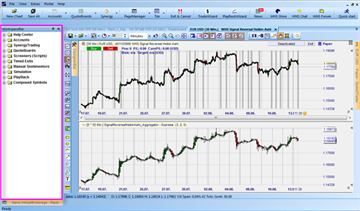 How do I launch a screener?
Right-click on the screener and select "Run". Click "Start". The results table appears. Double-click on an instrument to see a chart.
How do I make my own screener?
Right-click on the Screeners folder in the WorkspaceBar and select "New". Give your screener a name. Select the criterion and the instruments you want to screen. Select the study you wish to use to screen the instruments. Save your screener and it will appear in the screeners list.